Compare delivery prices in one click.
Sorted

Price comparison sites that seek to provide you with the best deal for your utilities, insurance and credit cards are commonplace today. With the Eurosonix Parcel Price Portal, you can now do the same for your courier services. We can save businesses time and money by comparing the delivery rates between the top four international parcel couriers to get you the best deal.
Book online to get the very best rates
Our easy to use parcel comparison price portal gets you quick, multiple quotes for multiple services to any destination in the world, and at better rates than you can often get by going direct. Large discounts are available for businesses through our group buying function. At the quotation stage, our parcel comparison price portal will give you precise transit times, as well as cut-off times, which allows you to plan your shipments to meet your customers' requirements. As well as offering UK deliveries, you can also obtain quotations for imports and exports, to enable you to send your parcel anywhere in the world.
A parcel comparison site with simple to use features
With simple instructions, the parcel comparison portal is extremely easy to use. It allows you to not only book online, but also track and trace your parcel online. It also includes time saving features, including administration functions which allow you to print delivery labels with a mail merge option, together with address book management tools and history records. Once a delivery is booked, you will receive notification emails of dispatch and delivery, with signed proof of delivery sent direct to your inbox. If, when using the portal, you need any help, we are always available 24/7 so give us a call on 01422 387530.
How do I access the Parcel Price Portal?
For your chance to access preferential shipping rates, complete the contact form below to request your login information for our Parcel Price Portal.
Click here to log into our online price portal.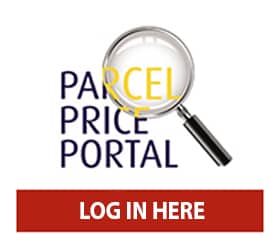 See how much you can save on worldwide courier services using our parcel comparison site.